Summer is generally an easier-than-usual time when it comes to entertaining kids. There are parks, zoos, playgrounds and a million other places that are perfect fro the warm, sunny weather. Still, getting kids from one place to another (and packing up all their gear) can be a little more difficult. Enter: the Thule Ridealong Bike Seat. Not only is this bike seat adjustable, easy to remove and comfortable, but real life moms and dads swear by it.
If you're looking for a way to get outside more and make your kids excited about getting from one place to another quickly, here are some things that make the Ridealong Seat something parents can't get enough of.
It has tons of safety features.
Of course, the most important part of a bike seat is that it's going to be safe. Not only does this seat have a built-in reflector and safety light attachment point for additional visibility, but it also has an adjustable, padded three-point harness to keep your little one safe at any age.
It's easy to get on and off the bike.
Multiple reviews mention the fact that the bike seat is easy to take on and off as a major plus. As one person writes, "Best rear child's bike seat on the market, in my estimation. Easy on / easy off for me, comfortable for the grandkids, solidly built; what else is there? Pricey but worth it."
It's comfortable and adjustable.
Based on the reviews, another aspect that makes this bike seat worth it is that it's both comfortable and adjustable, from the seat itself to the straps.
One customer wrote, "Before we purchased this seat we watched [YouTube] and did research. We decided to go with this model vs the older one. You can adjust the angle of the seat, the straps are soft and are more comfortable for a kid. It's easier to adjust the straps comparing to the older model. The back part of the seat supports neck for a long time ( unless your child is very tall). The seat is very easy to install. It took a while for my husband to get used to extra weight on the back. Very pleased with this purchase. Hopefully it will last for a long time for other kids to enjoy."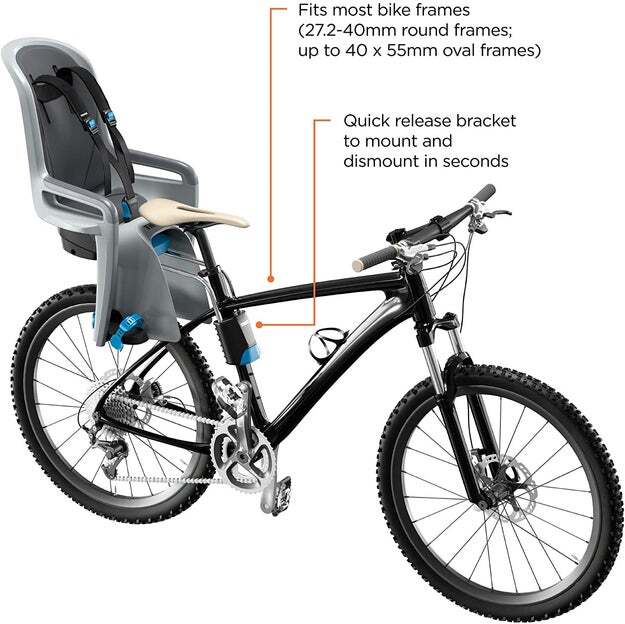 Target
It grows with the child.
It costs less than a bike trailer.
Bike trailers are a popular option for those with kids, and Thule also makes bike trailers. But this bike seat is a fraction of the price, which makes it a great option if you're on a budget.
One customer writes, "This is a very good product, you can tell everything about it was thoughtfully designed. The bars flex just enough to provide a comfortable ride. My son likes it a lot and will hit me in the back to encourage me to ride faster. It does change the balance of your bike and it is a little awkward to load a child in and brace your bike at the same time. A trailer would probably be bit more comfortable but this is less than half the cost. I anticipate this product making a great gift in a few years after I'm done."