A batch of tainted drugs that arrived in Ottawa earlier this month is being blamed for scores of overdoses throughout the city that overwhelmed outreach workers and first responders and led to at least five deaths.
"It's fairly common for us to have little spikes here and there," says Anne Marie Hopkins, director of operations for Ottawa Inner City Health. "But what we saw during that period was a massive spike like we've not seen in a long time."

Ottawa Public Health's Overdose Prevention Task Force issued a warning on July 5 that paramedics had responded to 22 overdoses and five deaths in the previous week. Hopkins said staff at Inner City Health alone treated 134 overdoses in June in and around its 24/7 injection site at the Shepherds of Good Hope, nearly double the 70 it reported in May. The last two weeks of June were particularly bad, she said.

"It was really rough on the staff to be in the constant vigilant state. Watching every corner. Watching every camera. Making sure you have enough supplies," she said.
"It's really hard to take care of people outside when they're overdosing and it's pitch dark and you can't see what you're working with. You have staff with headlamps on. It's just been a crazy, crazy few weeks."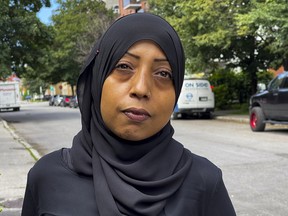 Client care worker Halima Yusuf is one of the Inner City Health's "runners" who respond to overdoses. When someone calls in a suspected overdose, Yusuf grabs a medical bag with Narcan, oxygen and other medical supplies and races to help.
"It's overwhelming for them and for us," said Yusuf, who spoke with this newspaper Thursday morning just moments after responding to an overdose outside the Shepherds.
"It's a bad batch of drugs. It's everywhere, whether it's on crack or fentanyl or weed. Everything is laced up now, and unfortunately our clients aren't aware of what they're consuming until they are overdosed."
The epidemic of overdoses tapered off after July 7, Hopkins said. Only one of the five deaths occurred in Inner City Health's area around the Shepherds and the ByWard Market. That was a man found dead on the steps of a church. Many of those who overdosed were not users who were normally at risk, she said.

Hopkins said the drugs probably weren't laced with fentanyl on purpose, but the opioid is so powerful that even the tiniest amount is enough to contaminate other illicit drugs being mixed or measured on a table.

"We did have a few clients tell us they went down when they were smoking something other than fentanyl. But it must have been laced with it. People who smoke stimulants you usually don't have to worry about it, but, with the cross contamination, they are just as at risk as people who smoke fentanyl," Hopkins said.
The bad drugs make the need for a safer supply of drugs even more apparent, she said. About 50 Ottawa Inner City Health clients receive opioids such as fentanyl or dilaudid by prescription through a pharmacy as part of a Health Canada pilot project. The difference that makes is profound, Hopkins said.

With a safe supply, drug users don't have to resort to petty crime, panhandling or other activities in order to secure their drugs. They need to come to the Inner City Health site to get their supply, so they are automatically seen by health-care providers.

"You have to come in here to pick up your meds, so you're seen by the health team," Hopkins said. "We're getting your mental health addressed, your physical health addressed. To see people get on this program and start to look good again, to gain some weight and experience all these positive health outcomes, it's incredible to see.
The fentanyl epidemic, which began in February 2017, has been devastating, she said. The early July overdose epidemic has made Inner City Health's job that much more difficult.

"We were never meant to be a place that just keeps people alive. We were meant to offer treatment and referrals and mental health care. But when we get these huge spikes like this, all of our resources just go into responding to overdoses and keeping people alive," Hopkins said.

"Our clients deserve better than that. You can't recover if you're dead."
What to do for a suspected overdose
For more information on overdose prevention and first aid, a release from the City of Ottawa ("Increase in suspected overdose-related deaths in Ottawa") contains recommendations, including knowing the signs of an overdose, calling 911 in emergencies and carrying naloxone, a medication that can temporarily reverse an opioid overdose.
Here are some signs of an opioid overdose:
• Breathing will be slow or absent
• Lips and nails are blue
• Person is not moving
• Person may be choking
• Person may make gurgling or snoring sounds
• Person can't be woken up
• Skin feels cold and clammy
• Pupils are tiny (also known as pinpoint)