Article content
As Ottawa welcomes its first in-person Canada Day party since 2019, there is a lot of uncertainty over how events sponsored by "freedom" groups will affect the festivities.
Article content
Groups protesting vaccine mandates and other pandemic restrictions plan events downtown on both June 30 and July 1.
It's difficult to predict how many "freedom" protesters will participate.
It's a grassroots movement with no single organization in charge and encompasses people with a variety of other grievances, from hatred of Prime Minister Justin Trudeau to conspiracy theories about a plot led by the World Economic Forum to control the world.
Some of the organizers are familiar faces from the "Freedom Convoy" protest that occupied downtown Ottawa last winter and the "Rolling Thunder" protest in April.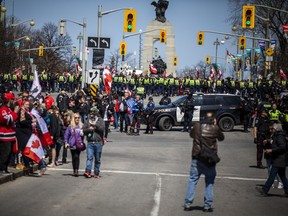 The social media feeds of key "freedom" groups are not calling on supporters to blockade streets downtown with trucks or erect bouncy castles and hot tubs on Parliament Hill like the convoy last winter, though.
Article content
That's not likely anyway.
Some streets downtown will be closed to vehicles on Canada Day. In addition, a traffic-control zone aimed at screening out protesters will be in place from June 29 to July 4.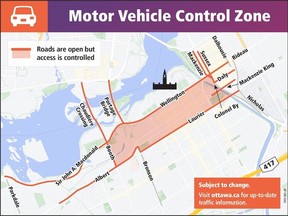 Expect a strong police presence. The Ottawa Police Service is asking for up to 491 RCMP officers to help patrol around Canada Day and right through the summer and fall.
At a briefing, an Ottawa police officer said the force will protect everyone's right to lawfully and peacefully demonstrate, but "we will not allow for the conditions that led to the unlawful protests in February to reoccur."
Stephanie Carvin, a professor at the Norman Paterson School of International Affairs at Carleton University, said there is no reason to assume the protests around Canada Day will be like the convoy occupation last winter.
Article content
"I think it's going to be different for a number of reasons," said Carvin, who specializes in international law, security, terrorism and technology and was an analyst for the Canadian government on national security issues.
Most of the COVID-19 mandates are gone, taking steam from a movement that has not been able to offer something else to rally behind except for "freedom," "unity" and opposition to Trudeau, she said.
In addition, said Carvin: Key organizers of the winter convoy who were arrested are in jail awaiting trial or have court-imposed conditions to stay away from downtown Ottawa. There is no multi-million dollar crowdfunding campaign and wide exposure on right-wing media in the U.S. for the Canada Day protests as there was for the convoy. Energy is being diverted by conflict between "freedom" advocates. Police are more prepared, and groups know they are being watched by law enforcement.
Article content
However, things can change quickly, she said. "Anything I say can be outdated by tomorrow.
"Things are fluid and they have the capability to come together pretty quickly and formulate plans pretty quickly."
On Canada Day, crossover between "freedom" protesters waving Canadian flags and other people waving Canadian flags will be limited by the fact that the government-sponsored concerts and fireworks have been moved away from Parliament and onto LeBreton Flats and nearby Zibi in Gatineau.
However, there will be some official events during the day on Parliament Hill, where protesters have said they'll hold a dance party in the evening.
And Ottawa Jazz Festival is scheduled to host its free Canada Day concerts at city hall, while "freedom" folks plan speeches in the afternoon there. The festival previously said it plans to close Confederation Park July 1 as a precaution. Traditionally Jazzfest offers free concerts on July 1 at both locations.
Article content
Some of the protesters will be camping at a KOA campground in Renfrew and plan a "freedom family celebration" June 29 to July 3.
About 500 people have signed up to camp there, according to a livestream late last week from Dave of "Live from the Shed," a multi-media company that promotes "freedom" events.
In videos, Dave has mocked the idea that there is a "convoy" coming back to Ottawa or that events around Canada Day will be anything other than fun and peaceful.
"Don't be worried, we've got great stuff planned, family-friendly as always," he said on the livestream.
"Very, very scary," Dave joked in another video as he outlined "freedoming" events on Canada Day that include a picnic on the lawn of the Supreme Court, a "fringe march" down Wellington Street for speeches at city hall and the "dance party" on Parliament Hill.
Article content
There are also events on June 30, when veteran James Topp arrives in Ottawa on the final leg of his cross-country walk to protest COVID-19 vaccine mandates and other pandemic public health measures. The march will wind through Ottawa streets and end at the National War Memorial for a ceremony.
Topp, a Canadian soldier charged for speaking out against COVID-19 vaccine requirements while wearing his uniform in February, has said in videos posted on social media that he wants the event to be respectful and devoid of profanity, including the "F*** Trudeau" flags that were common at the trucker convoy in the winter.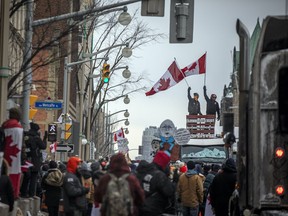 Another veterans group says it plans a counter-rally on June 30 to protest the use of the War Memorial for action by "far-right political propaganda by political actors such as James Topp."
Article content
While Carvin noted situations can be fluid and change quickly, events can also spiral regardless of the intent of the people who organized them.
At the "Rolling Thunder" protest in April, the "official" event on Parliament Hill and a motorcycle ride-by at the War Memorial were without incident. But Ottawa police in helmets and shields scuffled with an aggressive crowd that gathered in the evening on Rideau Street near Sussex Drive as vehicles jammed the street there.
Carvin said Ottawans should also understand that people have the right to stage peaceful protests, even if they are disruptive.
"They are allowed to walk around and they are allowed to dance.
"If they want to stand on the sidewalk and scream about how vaccines are turning them into reptiles, fill your boots. That is your right as a Canadian."
Article content
Here's what to expect:
June 30
Veteran James Topp plans to end his cross-country march against COVID-19 vaccine mandates and other pandemic public-health restrictions at the National War Memorial, with supporters urged to join him for all or part of the last leg of his march through Ottawa.
The "Canada Marches" organization behind the event did not respond to a request for an interview.
The march begins at the LCBO/Metro on Robertson Road in the west end of Ottawa at 10 a.m., heads down Baseline Road to Hog's Back Park, leaving around 1:30 p.m., then down the Rideau Canal to the LCBO/Loblaws near the Pretoria Bridge, before heading around 3:15 p.m. down the canal to the National War Memorial for a ceremony at 4 p.m.
Article content
Another group composed of veterans and community members says it plans a counter rally at 5 p.m. at the Oscar Peterson statue on Elgin Street near the War Memorial.
The "Veterans Accountability Commission' says it objects to the use of the War Memorial for a political protest and wants to draw attention to the "far-right pseudo-American fascist creep that is entering our nation's political system and those enabling it to happen."
July 1, Canada Day
Most of the government's Canada Day events have been moved to LeBreton Flats and nearby Place des Festivals Zibi in Gatineau.
That's 1.6 kilometres west of Parliament Hill, which for the first time in more than 50 years will not be the heart of the party.
There will also be activities on the Hill, though: aerial performances by the SkyHawks accompanied by the RCAF Pipes & Drums Band from 9 a.m. to 3 p.m. and the Snowbirds aerial show from 3:30 to 4 p.m.
Article content
In addition, visitors are encouraged to visit Parliament Hill to take photos, said a spokesperson for Canadian Heritage.
"Parliament Hill is among our country's most iconic landmarks. Like every other day of the year, visit the Hill on July 1 and take part in the activities offered on-site," according to the department's website.
"Freedom" groups are doing just that. They have announced plans to hold a "dance party" on Parliament Hill in the evening from 5 p.m. to 8 p.m.
During the day they plan a family-fun "freedoming" event on the lawn of the Supreme Court that includes an "old-fashioned family picnic" with games, keynote speaker James Topp and concerts. That's followed by a "fringe march" from 3 p.m. to 5 p.m. down Wellington Street to city hall to hear speeches.
Article content
City hall's Marion Dewar Plaza is also the location of the Jazzfest's free Canada Day concerts all afternoon, with the last concert starting at 5 p.m.
After Canada Day
The Veterans 4 Freedom organization says it is setting up a camp on a field on private land 40 minutes east of Ottawa that will operate this summer.
Veterans will sleep on cots in tents and are seeking donations of equipment, supplies, food and money, according to Veterans 4 Freedom co-founder Andrew MacGillvray, who explained the plans in videos posted on social media.
The group will spend the week at "Camp Eagle" planning for events they will stage in Ottawa from Friday to Sunday all summer around Parliament Hill, said MacGillvray.
They will not be going into neighbourhoods yelling, screaming and using bullhorns, said MacGillvray in a video addressed to the citizens of Ottawa. Summer events will be advertised so people can avoid them if they choose to, he said.
Article content
"I can assure you that V4F's efforts in Ottawa this summer will have as little an impact on the citizens of Ottawa as possible," MacGillvray said in an email.
MacGillvray declined a request for an interview, saying the organization does not speak to the "mainstream" or "government-funded" media "due to your recent history of not reporting the actual news and trying to frame a narrative."
The goal is to build support in order to have 100,000 to 200,000 people protesting in Ottawa by Labour Day, he said in another video posted on social media.
jmiller@postmedia.com
-With files from The Canadian Press